Introduction of a Chemical Management System in the Food Science Laboratory
By Sabine Harrison, School of Agriculture and Food Science
I am a food and nutrition technologist in the School of Agriculture and Food Science. Having completed my Lean Six Sigma Yellow Belt training in industry some years ago, I originally contacted UCD Agile about one year ago regarding a possible project for Green Belt Training aimed at introducing a new system into the Food Science Section that would improve health & safety within the laboratory as well as making the current system more user-friendly and cutting time to find chemicals.
Following conversations with Agile's Olga Murdoch in which we fleshed out a draft project charter, my project was approved. I started my training in February 2018 and was mentored by Agile's Michael Sinnott all the way.
Over the next few months, I ran workshops with all lab users, using creative thinking tools like "anti-solutions" to identify ways of improving our current system. Furthermore, in-depth analysis of what was not working using "Waste" analysis and the "5 Whys" methodology was deployed to identify the root causes of issues in various areas.
In order to "measure" any improvement obtained as a result of this project, I used SurveyMonkey to gain an insight into how users felt about the system prior to implementation. The survey showed that users take over one year to become familiar with the "system" in the lab. In addition, users did not find the system very user-friendly (47% approval rating). Furthermore, the average time of finding chemicals in the lab was estimated to be over 7 min.
Then, in June 2018, my team and I introduced Quartzy, an online chemical management system, into the laboratory in Food Science as a key element of improving the overall lab "system". Over two days, all lab users entered all existing chemicals into the online database Quartzy while simultaneously re-organising them into a central storage location where they are now stored in dedicated chemical storage cabinets. In addition, chemicals are now segregated in line with legal requirements, significantly improving health & safety as well as compliance within the laboratory.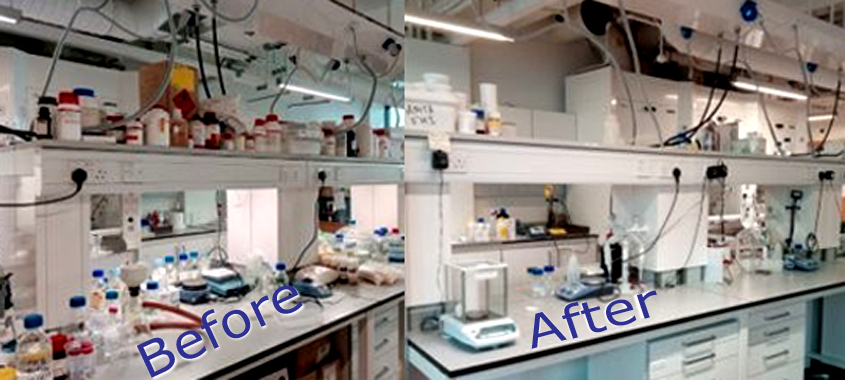 It has now been almost 6 months since the implementation of the new workflow. User feedback shows that the new system is much more user-friendly (approval rating of over 82% which represents an increase of over 75%). In addition, chemicals are now located significantly faster in less than 3 min, representing a timesaving of over 61%. Furthermore, using weekly audits performed by lab users helped to instil ownership while ensuring compliance with the system. Audit results have been consistently above 90% indicating lab users have adapted to the new workflow, highlighting this project was a success.
We set out to make the lab system more user-friendly, to reduce the time to find chemicals and to improve our management of health and safety in the lab. We succeeded!