Work Smarter Together 2019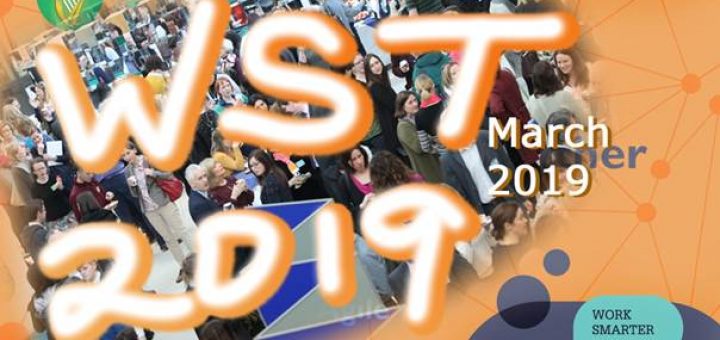 By Michael Sinnott, Director of Agile
A date to put in your diary for after Christmas(!)… Work Smarter Together will take place again on 13 and 14 March 2019. Planning has already begun, ideas are bubbling up, and the route from now to then is being laid out.
In March 2017 we saw over 400 colleagues from the across the University come together over two days for a mixture of workshops, plenary sessions, posters, breakout session and general networking, all with Work Smarter Together's theme of 'celebrating collaboration and creativity'. (Check the WST website for memories).
WST 2017 was quite an event when you consider that we had over 60 people or groups look to present sessions or posters on the day, as well as over 100 taking part in longer workshops they day before. One of the goals with WST has been to create opportunities for colleagues to come together, meeting friends old and new, and so the lead-in to the event is as much a part of its success as the day itself.
In case you think we are over impressed with what was achieved in WST 2017, the post-event review picked up lots of feedback on what went well but also on what could be better or different next time. The perfectionists in the planning group tend to focus more on 'what could be better' so we will be looking to make WST 2019 even better.
The WST journey started with a small session in 2011, based around an Association of University Administrators event held in the School of Business. Inspired by this, in 2012 Registry ran an event focused mostly on what Registry do but open to colleagues from all across the University, focusing on the networking and connections opportunity as much as the content. Again inspired by what was achieved, in 2014 Registry, IT Services and the Library organised the next iteration of WST, with David Putnam as the keynote speaker and over 250 colleagues gathering. Then in March 2017 we used David Whyte, poet and giver of sessions, as the keynote around a day in which we had lots of content from different parts of the University and saw over 400 colleagues gathering.
WST 2019 looks to carry on this tradition of the UCD community coming together for a day, celebrating the creativity and collaboration which makes a lot of what we do possible and which helps make UCD the good place to work that it is. So WST 2019 is about us, our creativity and commitment, the energy we get from collaboration, the value and pleasure of networking and connecting, and the opportunity to be inspired by UCD voices and by others. We have not sorted out the speakers yet but the blank cheque we are writing, that you can cash next March, is that WST 2019 will be bigger and better than ever.
Michael (on behalf of the yet to be convened planning group).