Lean HE Ireland Update
By Michael Sinnott, Director, UCD Agile and Network Lead of Lean HE Ireland
This is the first Lean HE Ireland update from UCD: Lean HE Ireland now exists! (The HE is higher education).
What is Lean HE Ireland?

Lean HE Ireland is a network currently involving colleagues from UCC, DCU, UL, QUB, TU Dublin, University of Ulster, and UCD – the kind of people who might saw "we are trying to make things better here… I wonder how you do it there". We are part of the Lean HE Europe regional grouping, which includes local networks from UK Scotland, UK North and Midlands, UK South, Poland, Netherlands and Belgium, and Nordic, with an emerging network in France. And Lean HE Europe is part of Lean HE (https://www.leanhe.org/home), a network which includes Lean HE Americas and Lean HE Asia Pacific.
How did this all come about?
People meeting people and, prompted by the possible, looking to see what we might make of this. We all need support, encourage and inspiration.
What is Lean HE?
It is a community of practice for those interested in making things better – continuous improvement. Our focus on this in UCD has been through UCD Agile and the Work Smarter Together community of practice, mostly looking to the 'support ecosystem'. In some other institutions you also see academics using Lean to help operate their teaching.
But what is Lean HE?
As it says on the Lean HE website (https://www.leanhe.org/lean-he):
"Lean HE is here for all those who wish to embed a culture of continuous improvement, in a way that supports others and embraces respect for people, kindness and positivity. We believe that all improvement methodologies, such as Agile, Six Sigma, Appreciative Inquiry and other approaches, including branded methods can be used within the umbrella of lean, because:
lean's principles are generally applicable
lean has become a recognised term in the sector and as such
we believe it will provide a solid foundation for collaborative work."
What drew me to Lean HE?
I met the people at a conference (in the real world, with coffee conversations and chatting in the audience!), liked the idea of sharing and seeing other perspectives, and liked the feeling of being part of something larger than just one institution. I ended up getting volunteered to develop an Irish network… found interested colleagues… and so now we have Lean HE Ireland.
Lean HE @ WST21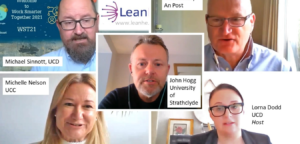 Some of you will have been at the panel discussion at WST 21 back in March – "Different ways of doing 'Lean' – stories from Higher Education and beyond" – in which we brought together Michelle Nelson from UCC, John Hogg from the University of Strathclyde, and Brian Clancy from An Post, in a session chaired by Lorna Dodd of the UCD Library, to talk about just what it said on the tin – different ways of doing 'Lean'. 'Lean' in this case means continuous improvement work in the broad sense, more than just the specifics of the Lean methodology, and each of the Lean HE Ireland institutions is coming at this broad space in different ways, much like the variety you will see within UCD.
That session was a good example of people sharing different experiences and contexts and approaches, bringing insights and ideas and, for me most importantly, the chance to see UCD in the light of others' experiences and perspectives.
Lean HE Ireland formally formed after this panel session at WST21 in March and we are currently planning an event for June 23, 11.30 to 13.00, bringing together colleagues from the seven institutions. More details on this soon but it will take a 'how to you start' perspective.
Be sure to watch out for more on this – it will be a chance to take part in interesting stuff and to meet colleagues from the other institutions.
Looking forward to connecting and collaborating across the island of Ireland, looking forward to connecting further within UCD.
Michael Sinnott
Director of UCD Agile and Network Lead of Lean HE Ireland.
Video of the panel discussion