MURAL members workshop
By Josephine Aylward, UCD Agile and Eimear Kelly, USM Rollout Team
The Agile team is a big fan of MURAL – the online collaboration tool – we use it for all our workshops and training sessions.
As we developed our own use of the tool, we found that participants in our workshops were catching the bug and became interested in using it too. Participants saw that it had potential to be a good addition to their remote working toolkit but needed advice on how to apply it within their own teams.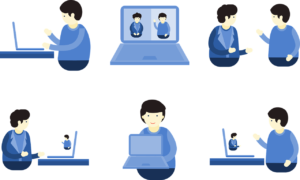 So in an effort to help colleagues collaborate in the online remote working environment, Agile decided to purchase additional licences and offer these to interested colleagues around UCD on a 6-month trial basis. The idea of sharing these 'seed licences' is that it will give users the opportunity to explore, with their team, what needs are met using Mural. Does it help teams work effectively together?
We started the project last November. The only thing we asked in return was that those taking part would give feedback along the way – share their experiences, tell us what worked, what didn't work so well, and what they had learned.
Members Workshop
On April 21st we held our first MURAL Members workshop with the aim of getting together as a group to find out how everyone had been getting on. Since we are all learning together and finding new tools to help us collaborate in our Distributed Offices – we wondered if people had found that MURAL was one such tool.
The overall feedback on MURAL was very positive. There was a range of experience levels: some people had used it extensively with their teams, while some had yet to delve into the more detailed features. Everyone, whatever their experience level, reported that they found MURAL's help in creating 'visual maps' very useful when planning processes or workshops, or holding project team meetings. It helped to make clearer links to actions and activities. The ability to export to PDF was also mentioned as a bonus.
People commented that it was very helpful to hear others' experience at the workshop. The knowledge sharing aspect (for example, participants shared information about the variety of templates and how to use and amend these) was very helpful.
We broached the subject of having a 'community of practitioners' and that is now something we are looking at in more detail. More on this at a future date!
In the meantime we will continue to check in on our MURAL members to see how they are getting on.