Tales from the Distributed Office: Presentations and videos
The theme for our 2020 WST October event was Getting Things Done in the Distributed Office.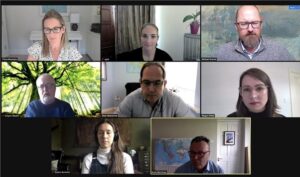 The first session, titled 'Tales from the Distributed Office', included presentations from colleagues from Arts and Humanities Desk, EAG IT Services, Careers Network and Educational Technology Services.
If you attended and would like a recap on what happened, or if you could not join us on the day, the presentations and videos are available here!
Gregori Meakin – Arts & Humanities Desk: The Innovation Game! Working Smarter Together…

Video:
Slides:
Peter McKiernan – EAG IT Services: Google Workspace and Zoom combine for productive distributed meetings
Video:
Sildes:
Megan O'Neill and Sophie Bonheim – UCD Careers Network: Embracing Online Working: Three Ways UCD Careers Network Discovered Hidden Opportunities
Video:
Sides:
Trish Mountjoy – Head of Educational Technology Services: Distributed Team Working
Video:
Slides:
We hope you enjoy these presentations and find inspiration within!
Follow us on Twitter – @UCDWorkSmart
Contact us by email: agile@ucd.ie