The Story of Charley Chatbot
"When a student uses the chatbot once, they seem to come back via the chatbot, it's good for building rapport"
Catherine McDonnell, UCD Registry

UCD Registry, in line with its own ambitions and the UCD Strategy, is constantly looking to innovate by implementing advanced IT solutions. With Artificial Intelligence (AI) at the forefront of current / emerging technologies, a chatbot was seen as a practical way to support students 24/7. The Student Desk has a commitment to deliver a high-quality service for students and, as such, were the unit lead for this project.

The Student Desk were looking for three outcomes from the chatbot:
A service that is available 24/7

Ability to answer routine, simple questions

A reduction in queries requiring staff intervention
We went to tender in 2020 and by the end of the year procured a chatbot service from an external vendor called Webio. The first iteration of the Student Desk chatbot (called Charley Chatbot) was built by Webio in consultation with the Student Desk team. Webio's advice was to base this initial build on the Student Desk's frequently asked questions and a pilot of Charley Chatbot was launched in the summer of 2021. Students were invited to send a hello WhatsApp message to 00 353 1 716 1580 and ask a question and the take-up was good considering the time of year.
The Student Desk began working on the next version immediately with the team noting questions students were asking the chatbot but which it could not currently answer. The team also looked at better ways to answer the questions it was answering. Other learnings from the pilot were that some students were asking incredibly specific questions about their account which could only be answered by a team member. Some students were (unprompted) giving personal details and others were asking very complicated questions. To address this the messaging was improved to explain that the chabot had limitations, could only answer simple questions, and to ask students to be mindful of the information they shared and not to give out their personal information on this platform.
In February 2022, a new improved version of Charley Chatbot, built by the Student Desk team (with Webio on hand for support), went live. With two months of reports to analyse, the Student Desk has found that it is successfully meeting the 24/7 service and the ability to answer simple questions outcomes. However the Student Desk has not been able to quantify a reduction in queries requiring staff intervention as data is very different for the last few years due to the pandemic, but are currently looking for different ways to quantify this.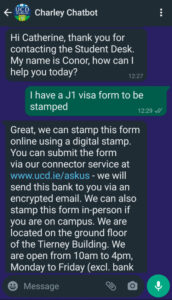 What the Student Desk team have said about the chatbot:
Krystyna "I think a lot of international students prefer to use chatbot rather than phone in case they need to translate something they don't understand and they have a time to do it"
Lisa: "It's fun cos it's an informal, conversational format – I can use emojis!"
Conor: "…Today I had a query about vegetarian food on campus so there is usually a wide range of questions. It helps to be able to have quick chats with a student and not need to wait for them to get back to an email. Even if a chat was sent during out-of-hours, usually they are quick to get back to us once we have followed up – a bonus of being able to connect with a student via their phone / whatsapp"
and
"When a student uses the chatbot once, they seem to come back via the chatbot, it's good for building rapport"
Stephen: "in the instances where you can answer the query it's a quick and easy way of interacting with a student / applicant in real time"
What students have said about the chatbot:
Student A: "With the state of art technology Charley Chatbot along with amazing assistance for more specialised help from Katie, helped me get the solution I was looking for and within a record time of less than 24 hours. I am astounded by such a gesture and looking forward to joining this group of exceptional people. Extremely delighted."
Student B: "I contacted the student desk re: a change in my academic record. Katie contacted the assessment team on my behalf and the issue was resolved pretty quickly. Katie was very helpful. I found contacting the desk through WhatsApp was very convenient. 10/10"