Upcoming October training and events with WST
Join us for some of our upcoming training and events over the next few weeks.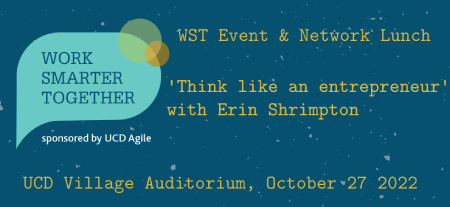 Getting comfortable with experimenting, taking risks and finding alternative paths to success
This is our annual October WST session which will be held in person with a networking lunch held afterwards
Session Summary:
Professional Experimenting : why experimenting at work is so important, especially now.
Entrepreneurial mindset: the mindset entrepreneurs use to test and adapt with limited resources.
Where to focus: getting comfortable with experimenting and challenging the norm without alienating our colleagues.
Visionary thinking: how thinking in visionary terms helps us be more experimental in our day-to-day.
Implimenting change: finding the confidence to take the leap.
"By applying the lessons that can be learnt from successful entrepreneurs to our work life we can benefit from their ability to take initiative, adapt to change, find creative solutions and be comfortable with risk and use them to make our professional lives more rewarding."
For information on Erin's LinkedIn Learning session on 'Think like an entrapreneur' follow
this link.
We invite colleagues to join us for a networking lunch to catch up with colleagues on campus, directly after the WST from 1pm in the balcony space immediately adjacent to the auditorium
We are also running two Change Manangement sessions that people are welcome to sign up to as well.

This is a full day in person training session to teach colleagues the skills to make the most out of change

"Understanding how we respond to change, and having the tools to engage effectively, empowers participants to succeed in any change journey."
This is a remote webinar which will go through the Prosci Method of the 5 Tenets of Change Management which enables people to guide colleagues through change:
"When you apply change management to projects and initiatives, you enable employees to adopt changes more effectively, which helps you realize the business objectives you set out to achieve."
Colleagues can book a place on one of our upcoming training through the
booking centre in InfoHub
.