Working Remotely – How do we do it?
By Olga Murdoch, UCD Agile
Working remotely is new to most of us and it is fair to say we are all still finding our feet. Over the past few days, I spoke to some colleagues about how they are approaching remote working and now I am sharing what I have learned with you.
The table below provides some examples of remote alternatives* to the activities we are used to when working on campus. This is not intended to be a comprehensive list but it may give you ideas for your own approach to remote working.
In person
Remote
Informal/social chats
Zoom

Google Currents

Google Hangouts

Formal meetings
Zoom

Google Hangouts

Planning and tracking work tasks
Microsoft Planner

Trello

Presentations
Zoom screen sharing combined with PowerPoint

Google Hangouts

Demonstrations
Zoom screen sharing
Interactive workshops
Zoom screen sharing combined with other apps such as mural, draw.io and padlet
*Please note UCD IT Services support Google Hangouts and Zoom
Social Zooming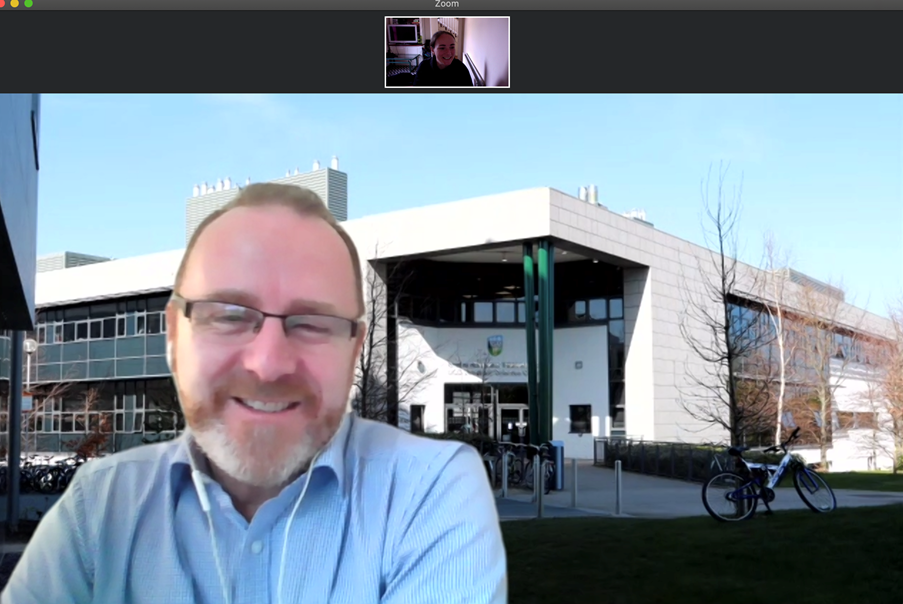 I caught up with John Buckley, Director of the School of Veterinary Medicine Office, who told me about their approach to keeping the school team connected. John has set up a regular Zoom meeting for the team that is purely social, providing an alternative to the informal chats we all have with colleagues we see daily on campus. By incorporating social zooming as a consistent part of the teams remote working schedule, individual isolation is being prevented, and the sense of 'team' is maintained despite the physical distance between individual team members.
Other teams/groups, such as the
Purl Jam Knitting group
are also using zoom to host online get togethers to replace campus gatherings.
Microsoft Teams* for Remote Connectivity
(By Amy McDonald and Jeremy Britton)
For most of us, the last week has been about adjusting and settling into the changed mode of working remotely. A large aspect of our contingency planning focused on how to support service delivery continuity across the offices operating the Unified Support Model within this "New Normal". With this, we realised that there was a gap in sharing information effectively and connecting with our colleagues outside of the day-to-day normalcy where everyone is a quick phone call or a walk down the hall away.
Our solution to bridging this gap was to set up a Microsoft Team as a resource for those who work in College/School and Central offices, supporting students, to share information. We use Microsoft Teams as a forum where people can post questions, updates etc. on a message board for other members to see.
Our main goals with this forum are:
ensuring that information is flowing freely in an environment where information is changing rapidly
establishing consistency in how information is presented to students during support interactions/query resolution
supporting key service processes to be continued as staff work remotely
Initially we set this up for the USM Learning Team, but have extended it to additional staff all in College/School and Central offices who are supporting students.
In this medium, where updates, comments and questions are posted on a forum, there's no immediate need to reply or respond straight away – the information is all there whenever someone has the time to look through it. It has given us, the USM Project Team, an overview of where people from different areas and offices have the same or similar questions arising from their students or from within their own teams.
So far all of the feedback we have received positive; from what we have seen over the last week, staying connected and finding the most effective way of sharing information – other than a lengthy email thread – is more valuable than ever.
*Microsoft Teams is not supported by UCD IT Services
Collaborative Process Mapping using Zoom and Draw.io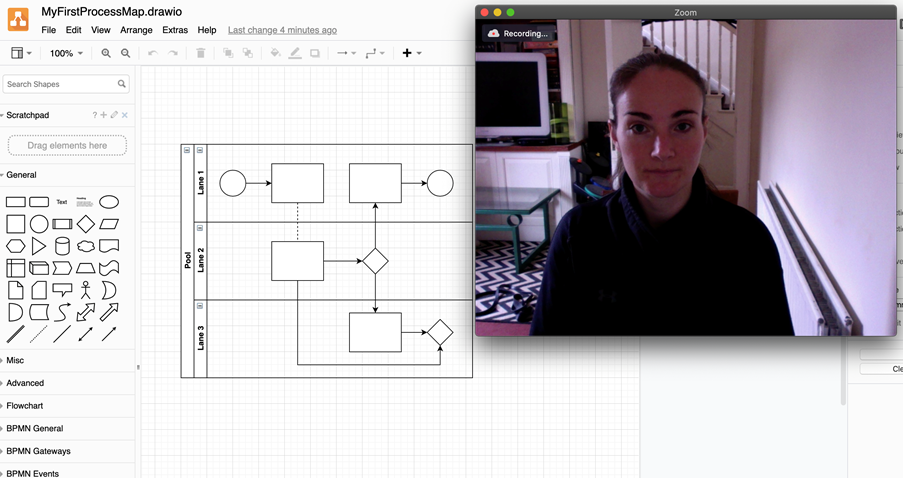 Anyone who has worked with me will know that I spend a lot of time getting teams to write post-its and arrange them on a wall. Before we began working remotely, I had already begun process mapping/standardisation work with some teams. The need is still there, but how do I facilitate this work now that we don't have access to the writable walls and post its in the Agile space?
Enter Draw.io. This free Google add-on makes it really easy to create process maps and other visuals. By sharing the browser running draw.io during a Zoom meeting I can facilitate a conversation and develop a process map with the teams' input, in real time.
This is still an experiment for me. If you try this or any other approach to interactive workshops online, I would love to hear how you get on!
Other resources from UCD
Distributed Office resources: http://worksmartertogether.ucd.ie/category/how-to-story/distributed-office/
Employee engagement: http://www.ucd.ie/engage/engagement/offcampusengagement/
UCD HR Online Learning: https://www.ucd.ie/peopledevelopment/courses/coursecataloguea-z/#collapseON1
Main UCD Covid 19 webpage : http://www.ucd.ie/covid-19/
IT Services remote working guide: https://www.ucd.ie/itservices/remoteworking/#d.en.488438
UCD Library resources: https://libguides.ucd.ie/covid19remoteaccess/resources
Employee FAQs from HR: https://www.ucd.ie/hr/covid19/
SIRC: https://www.ucd.ie/sirc/coronavirus/