WST 2017 has begun!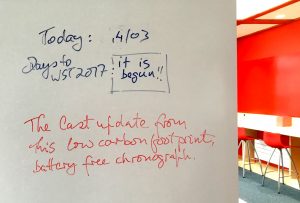 WST 2017 starts today at 1.30pm – the first of the pre-event workshops.  110 people have signed up across the seven workshops – covering Lean, creative problem solving, unconscious bias, EDI-aware policy development, universal design, and an intriguing artist in residence workshop – and we wish them an interesting and fruitful time.
Registration for the event itself opens today, Tuesday, allowing you miss any early queues on Wednesday and also allowing you the opportunity to visit the poster exhibition.  (We are even running a little 'popular vote' poster competaition so you will have a chance on Wednesday to highlight the poster you like the most).
We will have nearly 400 participants on Wednesday, great speakers, the poster exhibition, the chance to network with colleagues and, of course, the community choir.
Looking forward to seeing you over the next two days…
Michael