Introducing… Globot!
By Katie Kelly, International Recruitment Assistant, UCD Global
Back in late 2019, UCD Global started looking for a new and innovative way to handle enquiry traffic. We pride ourselves on high-quality and personal service when it comes to our students and we wanted to make sure that the way we moved forward still supported this. We explored different options available but ultimately decided a chatbot would be the best route for us. Once we settled on this idea, the next step was to start researching!
There are a lot of different types of chatbots (and companies!) out there, which made it tricky to know where to start. However, in early 2021 we decided to just dive right into conversations, demos, and everything else entailed in the research. The start of the demos also saw the start of our procurement process which, to be frank, ended up being quite a lengthy process. During this time, we were delighted to have found Gecko, who we procured our chatbot from in the end. Gecko works solely with higher education institutions, so for us, not only were we impressed with their chatbot/AI solution, but also their industry knowledge. These were two of the main reasons we knew that they would be a perfect fit for UCD Global and our enquiry management goals.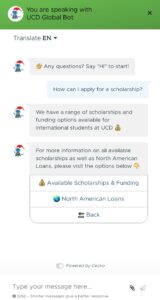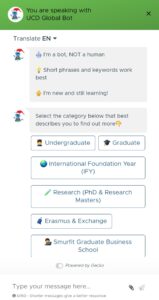 Once we were ready to start building our chatbot, whom we've named Globot, we worked with Gecko to figure out how many team members on our side needed to be involved and if there was any prep-work we could do in advance. It worked out that we only needed a small team of colleagues who would jump in and out during implementation to help where needed (e.g. a colleague from EAG was only required once for a 30 minute meeting) and the prep-work was minimal! When we decided on a suitable week, two team members from Gecko flew over to campus for an in-person implementation and we got to work. The implementation started on a Monday morning and lasted just shy of 4 full days (i.e. 10am-4pm each day). We really appreciated having an in-person implementation, especially given the fact that we were able to build, train and go live with our Globot within 3-4 days!
Day 1, was essentially an introduction morning and then jumping straight into building skill trees (i.e. a visual representation of options that are listed in a linear path (often with some or many branches) where access becomes available in sequence) with some of our FAQs and individual questions and answers. By Day 2, we had completed a lot of this work and then moved onto designing, liaising with IT and training. Day 3 and the morning of Day 4 were finalising designing, tidying up text and training. We were delighted (and pleasantly surprised) to be hitting the live button just after lunchtime on Day 4. We couldn't have asked for a better or smoother implementation week.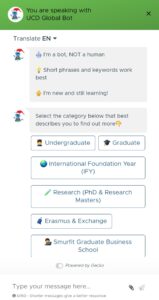 The maintenance and ongoing training of our Globot is very user friendly and can be done easily. We have on-demand access to the back-end of the chatbot system which makes training and updating information as we need to really accessible. For the first few months, Gecko recommends logging in daily to complete training as this will help the bot gain confidence and continue to grow as we'd like. But honestly, from the get-go, our Globot has had fantastic success in terms of analytics thanks to a thorough implementation week and a sophisticated AI solution. Currently, we are happy to say that we have a 90% success rate (which continues to increase) just 3-months on.
Now with our Globot live on our website, we have a 24/7 service to offer quick answers to those repetitive questions, whether with a quick answer or directing detailed information on our website for our students instantly.