The Unified Support Model Team, Change, Connection and Culture
The Unified Support Model (USM) team has an important role that involves working closely with colleagues across the university to support, enable and drive a consistent quality of service. Recently however, the USM team has faced a lot of challenges and undergone significant change. There have been changes to staff, the remit of the team is constantly changing as are the needs of its varied customers. Added to all of this are the challenges of hybrid working, therefore now more than ever it's important for the team to work closely together so it can manage its growing workload. To do this, the team has devised working norms that help set expectations for the team, and tried out new tools and approaches to help us work smarter together.
The 5 challenges of hybrid working, or '5C challenges' as identified by the Harvard Business Review are communication, coordination, connection, creativity, and culture. In this article I will describe the approaches that the team has taken and tools we are using to overcome two of these challenges, namely connection and culture.
Connection
Strong Personal connections are socially sustaining, the foundation of our relationships, and are important for our psychological well-being. Similarly, teams who are more connected to each other, who understand, trust and respect each other, are more effective.
As a new team working in a hybrid environment, we recognised the importance of forging and maintaining close connections to foster a healthy team. In practice what this looks like is a weekly anchor day when all team members attend campus. We leverage our on campus days as much as possible by meeting in both formal and informal settings. We catch up over coffee and work together in order to be creative.
The weekly Health Check
A novel piece we have implemented to stay connected as a team is the Weekly Health Checker. For this Emma Mescall created a Mural template that we populate in advance of our weekly meeting for discussion during the meeting. It is always the first item on the agenda and we devote approximately ten minutes to it. The questions we consider individually before the meeting are:
How well do you feel you supported the rest of the team this week?
How well did you feel you were heard this week?
How well do you feel you accomplished your tasks/goals this week?

Each team member adds either a smiling, neutral, or sad face symbol to the Mural under each of these sections. We then use the comments section to add any feedback/context in order to help get to the root of potential problems. Finally we add another smiling, neutral, or sad face symbol under the 'Overall Health' section. During the allotted time in the team meeting, each team member discusses what they have recorded, and if necessary we decide upon an approach to solve the problem. For example the Health Checker has revealed that:
The team was becoming overwhelmed by the amount of cards on our Trello Board (Kanban board), so we decided to implement focus days where we limit meetings to close out pieces of work.
The team was reaching capacity, which prompted us to reallocate and reprioritise our work.
This approach has been a resounding success for the team as it helps to surface issues before they become problems. However, on a personal level it enables team members to empathise with and understand each other which is also crucial.
Culture
Culture is important for a team because it can help solidify the team through the establishment of shared norms, values and expectations.
Team Charter
Very early on in forming the team we decided to put together a team charter that would be crucial to forming our culture, and thus our success as a new team. Not only has the team charter given meaning and more clarity to our work, but it has helped team members feel more cohesive as a unit.
Drawing up the charter involved meeting as team for a number of hour-long sessions and using Mural to facilitate the conversation (but equally any shared document, spreadsheet etc. could be used).
The kinds of things we've agreed to in our charter include our mission, our working norms, our individual strengths (what we bring to the team), our metrics, our values, our gaps and areas we can grow.
We also agreed our Why Statement which is:
'To connect people and deliver value so that they are empowered & enabled to be their best'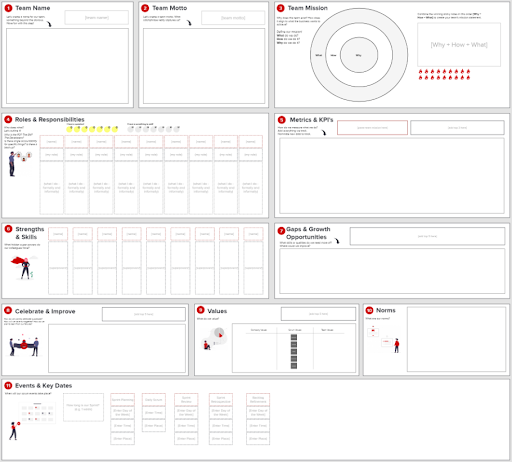 Being open to failure
As a team we agreed that to succeed we must be open to failure. Within the team there is a freedom to try things and see how they might work. We take an iterative approach to our work whereby we learn from our mistakes and each other. We constantly tweak, ie. we take stuff that works for us and use it/rework it and we always look to improve. Central to this is the team's Lessons Learned Log (a shared Google Sheet) which we keep up to date and review at regular intervals. By constantly trying to achieve our goals, we know that we are bound to make mistakes, but having the freedom to do so enables our success.
Celebrating success
The USM team places importance on celebrating our accomplishments whenever we can. This is important because it can help to bring team members together and create a sense of positivity. It can also help to build momentum and a sense of progress, which in turn helps to improve morale which is especially important when the team is under pressure.
At our weekly team meeting we take time to acknowledge both our individual and the team successes. Earlier in the year when we closed off a particularly large piece of work, Access and Reporting 2.0, we got together in person to celebrate with tea and cake. This might sound trivial, but deliberately slowing down to celebrate our success in person and in informal ways enhances the team's personal and working relationships.
If you would like to learn more about anything discussed in this article, please email usm@ucd.ie