LEAN Practitioner – University Secretariat
By Hanna Laitinen, Sarah Moroney, Suzanne Clauson, and Emily Coffey, University Secretariat
When the opportunity to take part in the Agile Yellow Belt Training workshop presented itself, a number of our team within the University Secretariat were delighted to avail of the opportunity and hone our project development and planning skills. Hanna Laitinen, Sarah Moroney, Suzanne Clauson, and myself, Emily Coffey took part in the Agile Yellow Belt full day Workshop on 3rd November 2020
We used the opportunity to solve a problem that had revealed itself as the depth of the pandemic began to emerge, and long-term remote working became a reality. Our Unit needed a systematic review of our record keeping procedures to ensure GDPR compliance, and to prevent the risks of duplication, loss and retrieval challenges.
Our unit is responsible for maintaining a large volume of files and critical documentation. The University Secretariat provides co-ordinated, high-quality and responsive support to the governance and management bodies of the University. This includes the delivery of professional secretariat support and advice to the Governing Authority, Academic Council and the University Management team and associated sub-committees and sub-groups. University Secretariat is also responsible for managing the process for the development and review of academic policy, regulations and other governance instruments underpinning the strategy and objectives of the University.
In participating in the training, it was wonderful to not only engage with each other, but other units and individuals from across the UCD community, albeit from the comfort of our homes on Zoom. The sense of connection and engagement that was so lost, particularly in the early stages of lockdown and remote working, was a delight to rekindle. The training itself was excellent and provided us with the tools we needed to get our project underway, and we quickly decided that we would proceed further with the training and aim for the Yellow Belt certification.
The group met every couple of weeks and elected Sarah Moroney as our Project Leader. As with all group projects, ensuring equal participation and distribution of tasks can often be tricky, but throw in a pandemic and Zoom meetings and all the added stressors that we all faced during this time, and we knew we might have a challenge on our hands. However, we need not have worried, with the combined experience and willingness to improve our recordkeeping processes, as well as an excellent project leader, a smooth and egalitarian environment was guaranteed. Additionally, we could reach out to Olga Murdoch of Agile for advice and support throughout the project particularly with regards to formal submission of the BOSCARD in our certification process.
We found the Yellow Belt processes such as the Five Whys and the Anti-solution exercise useful in identifying our problem statement, and from there we were able to focus on solutions. After each meeting, each member of the team would be allocated a task and we tracked these and our progress throughout the project.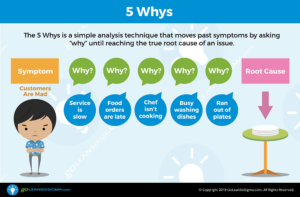 Once the project team was established, roles assigned, and our BOSCARD signed off, we began our preliminary research, conducting a survey both in-house and with other units. Over the following weeks, the group met regularly, which proved to be something we all looked forward to, in terms of working on the project and having an opportunity to catch up in real time, even if only in a virtual sense.
The project allowed us to develop and implement comprehensive Record Keeping Procedures, which the Unit is now adhering to and completing quarterly audits to ensure our records are up to date and free of duplication.
If anyone is thinking of completing the Yellow Belt certification, we would thoroughly recommend it as a great tool for project planning as well as an opportunity for positive team building and engagement.