Newly awarded Green Belts
By Bernadeta Kieromin, Agile Coordinator
Congratulation to our newly awarded Green Belts!
In April 2018, seven new exciting Green Belts were presented their QQI parchments by Professor Mark Rogers.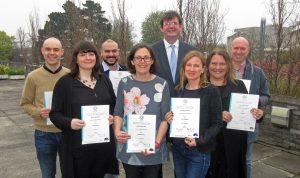 Green Belt Awardees with Mark Rogers (L-R): Derek Reilly, Sabine Harrison, Dimitrios-Stavros Kapetanakis, Maria McDonal, Mark Rogers, Iseult Ó Síocháin, Pia Polotto, Tom Cannon
The project leads gained a comprehensive understanding of enhanced problem-solving skills. Congratulations to:
School of Agriculture and Food Science – Food Science Laboratory Chemical Storage – Sabine Harrison
School of Mechanical and Materials Engineering – Eliminating Waste_Machine Processes – Derek Reilly
UCD IT Services – Infohub Support Review – Maria McDonald
UCD Research – OBRSS II – Dimitrios-Stavros Kapetanakis
UCD IT Services – IT Accounts_Visitor Affiliate – Tom Cannon
UCD Registry – Delegated Authority – Iseult Ó Síocháin
UCD Estate Services – UCD Estates Contact Centre – Pia Polotto
If you are interested in pursuing a Green Belt project and achieving a QQI Level 7 qualification, see here for more information.