UCD Purl Jam pandemic crafting
By Niamh Nestor, School of Veterinary Medicine & Catriona Keane, Student Advisers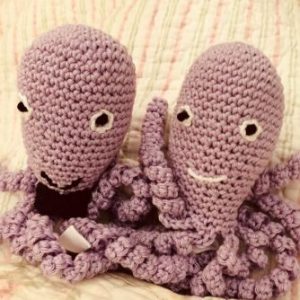 At UCD Purl Jam, we really wanted to keep our craft meet-ups going during the lockdown, and they continue to be a vital weekly source of comfort, solace and stress-relief as well as joy, friendship, connection, and, of course, good chats for us all.
Zoom has been the ideal platform for us. We meet each Wednesday at 1pm, and we spend our time chatting about what projects we're working on and catching up on how everyone is getting on. Mainly, though, like everyone else around the world, we chat about the Covid-19 outbreak. We ruminate on how strange it all feels, how our families' and friends' lives have been impacted, how much we admire those who work on the frontline, and we chat through our fears and hopes for this time. None of us knows what is going to happen, but we talk about our hopes that the 'curve' will flatten soon, that people will keep self-quarantining and self-isolating as long as is necessary, that those who might be taking chances will learn to think about more than themselves, and that anyone who is worried about someone they love or themselves will take comfort from the great efforts we see all around us to do the right thing.
Project-wise, we've worked on mask-making for frontline staff and have made several donations of beautiful masks to nursing homes, hospitals, direct provision centres, and disability services. We have also worked on the fantastic 'Hearts for Hospitals' project which is bringing some much-needed solace and comfort to hospital patients who can't have visitors at this time. Have a look at our blog for more information.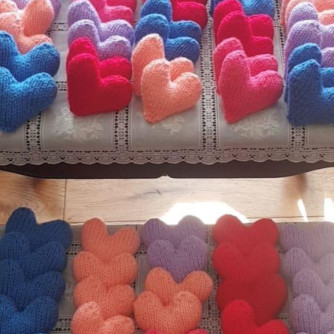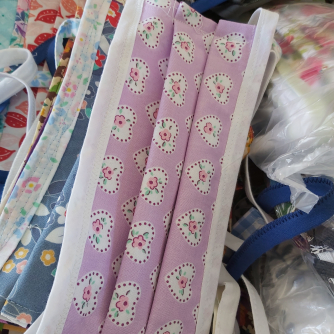 Join us if you feel like doing some crafting! All are welcome. Contact details are on our blog.