Work Smarter Together – 20 February 2018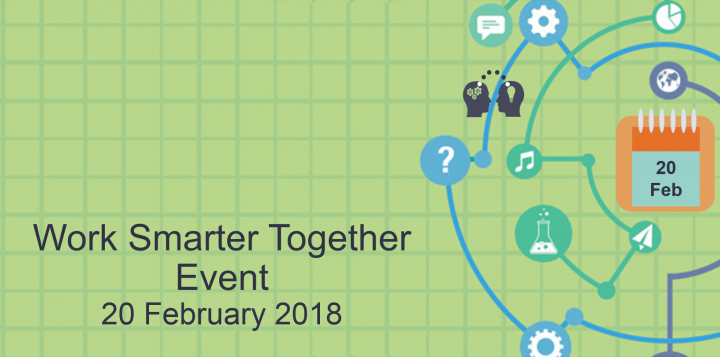 The first Work Smarter Together Event of 2018 will take place in the Moore Auditorium, O'Brien Science Centre on Tuesday 20 February – sandwich lunch at 1pm, main session starts at 1.30, some CoP events before 1.
Check below for details and put the date in your diary.
After a really interesting session in October with Sean Paul Teeling, from UCD Nursing and the Mater Hospital, and John Maxwell from the NTMA we asked attendees what they would like to hear about in the next session.
You said 'more in-house UCD stories' and so on 20 February we will have UCD speakers talking about their projects, big and small, and how they went, or are going, from an idea to a successful change.
The Registrar, Prof Mark Rogers, will open the session and speakers on the day will include colleagues from Estates, Finance, HR, Business eLearning and Access and Life Long Learning… and perhaps a few more….
As part of the event we will also launch the Agile Community of Practice for those working with the skills/tools/training that Agile supports.
We encourage you to come along and hope you will be inspired by the speakers and the stories of what they have been doing.
If you have any queries please contact agile@ucd.ie or Michael, Olga or Nuria in UCD Agile.
---
Schedule for 20 February – Moore Auditorium:
From 11:30/12:00 until 13:00: Communities of Practice are planning to run sessions, further information will be available on this in the next staff eZine.
13:00 Networking lunch – come along for sandwiches and refreshments and opportunity to chat to your colleagues, or perhaps use this opportunity to arrange to meet colleagues you do not see too often.
13:30 Registrar opens the session
"What have we been doing with Lean in UCD" – speakers from across the campus with their stories
Dialogue and Q&A
Launch by UCD Agile of the 'Agile Community of Practice'
15:00 Session finishes, latest
See you on 20 February
Michael, Olga, Nuria
UCD Agile