2020 Lean Practitioner Update
By Olga Murdoch, UCD Agile
UCD's first nine Lean Practitioners were presented with their Certificates of Achievement by the Registrar and Deputy president at last October's WST event in The Fitzgerald Chamber in UCD's Student Centre.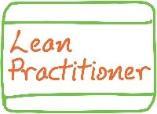 Over a year later, we couldn't have predicted how things would change. The 2020 October event took place through Zoom Webinar but that didn't stop colleagues coming together to hear about how things are getting done in the Distributed Office. It also didn't stop the Registrar recognising the success of another group of Lean Practitioners during his opening video at the start of the event.
Now, UCD has 19 staff and faculty who have successfully completed the Lean Practitioner programme. Lean Practitioners participate in the Yellow Belt training and go on to use their new Lean skills to deliver an improvement project in their area – with the support of UCD Agile. They follow the Lean A3 problem solving process, submitting their template at the end for review and sign-off by Agile and our training partners SQT. We set the bar high, making sure all successful Lean Practitioners have demonstrated the ability to apply Lean tools appropriately to the problem they are solving.
The latest group quickly had to pivot from delivering their project in the 'traditional' context to delivering during a global pandemic. Working in the Distributed Office hasn't stopped our Lean Practitioners from getting the job done. You can read more about their story in this post from our last newsletter..
Finally, I would like to once again congratulate each of our Lean Practitioners on a job well done. I'm sure we will hear of more improvements and innovations from them in the future.
You can learn more about the Lean Practitioner programme on the Agile website. UCD's 19 Lean Practitioners are:
| | | | |
| --- | --- | --- | --- |
| Name | Unit | Job Title | Project Title |
| Susan Yeates | School of Medicine | Finance Officer | Systems Biology Ireland – Induction Process |
| Shauna Byrne | School of Medicine | Senior Research Administrator | Systems Biology Ireland – Induction Process |
| Maryann Kelly | School of Medicine | Senior Executive Assistant | Systems Biology Ireland – Induction Process |
| Jessica Ralston | School of Medicine | Chief Operations Officer | Systems Biology Ireland – Induction Process |
| David Kissane | UCD Registry | Senior Executive Assistant | Buddy System in Action |
| Elena Keany | UCD Registry | Executive Assistant | Buddy System in Action |
| Kaylin Bednarz | UCD Registry | Executive Assistant | Buddy System in Action |
| Claire Erraught | School of Agriculture and Food Science | Post Doc Research Fellow Lvl I | NTFS II Urine Processing |
| Wendy Briceno Vicente | School of Electrical and Electronic Engineering | Senior Power Systems Researcher | Wind Turbine Data Delivery in PSSE |
| Joe Nankivell | UCD Library | Senior Library Assistant | Collection Services, Library – Handling New Books |
| Dimitrios-Stavros Kapetanakis | UCD Research | Research Systems Analyst | Provision of bibliographic metrics |
| Ioanna Galeadi | Graduate Studies | Graduate Education Project Officer | Transferable Skills Workshops Graduate Studies |
| Giuliana Rocca | School of Agriculture and Food Science | Senior Executive Assistant | Exam Paper – submissions and approvals |
| John Wyatt | School of Veterinary Medicine | Senior Executive Assistant | Student/Supervisor Allocation System for the Professional Masters in Education Programme |
| Nicola Fortune | UCD Careers Network | Career & Skills Consultant | Mock Interview Process |
| Aine Heffernan | School of Medicine | Research Assistant | Running of MSD Electrochemiluminescence |
| Mark Coyne | School of Medicine | Assistant Professor | Process of obtaining external lecturer's notes and loading up to system for scheduled lecture |
| Sinead Lindsay | School of Medicine | Research Scientist | Sample Labelling consistency |
| Michelle Morice | UCD Global | Global Operations Assistant | Non Staff Expenses |
(Note: information correct at time of completion of the Lean Practitioner)