News from The Community of Practice for School Managers
By Claire Nolan, School of Information and Communication Studies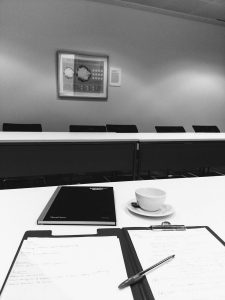 Administrative staff find the summer months as full of obligations as the rest of the year. Nevertheless, a quieter campus allows for reflection on the year that has passed, and preparation for the year to come: there are new regulations to become familiar with, several benchmarking elements approaching, and new academic programmes, all of which require new school and unit-based procedures for staff. The Community of Practice for School Managers has now completed its first year of operation, and this is an excellent time to look back on the speakers and meeting we have held this year.
We were very extremely lucky with the calibre of spokepersons this year. Lisa Flannery, Marketing Manager Brand and Reputation, Dympna Donoghue and Emma Action of the Finance Section, Lisa Padden of Access and Lifelong Learning, Daniel O'Sullivan of the International Office, and Caroline McTeigue and Ciara McCabe of Registry all gave their time and clear expertise to the CoP. These sessions are also important as it allows the CoP to put itself forward to other units, who can then dialogue upcoming issues and concerns.
We also held an Orientation workshop; Facilitated by the Agile Unit (the excellent Olga Murdoch), colleagues gathered together to confer on the needs of both new staff, and the staff managing them, to create a wish-list of content for orientation. We aim to liaise with HR to set this up as soon as workloads and timetables make possible.
As we face into the coming academic year, we will seek in our meetings to support each other, to foster support for our colleagues, to brief ourselves on the new challenges for our schools, and to encourage our own professional and personal development. We look forward to furthering the University's strategic and academic goals, and to continuing the pattern of excellence we have developed.
Contact:
Claire Nolan (claire.nolan@ucd.ie), School of Information and Communication Studies