WST March 23 Tickets Available Now!
Work Smarter Together March 23 'Celebrating Us'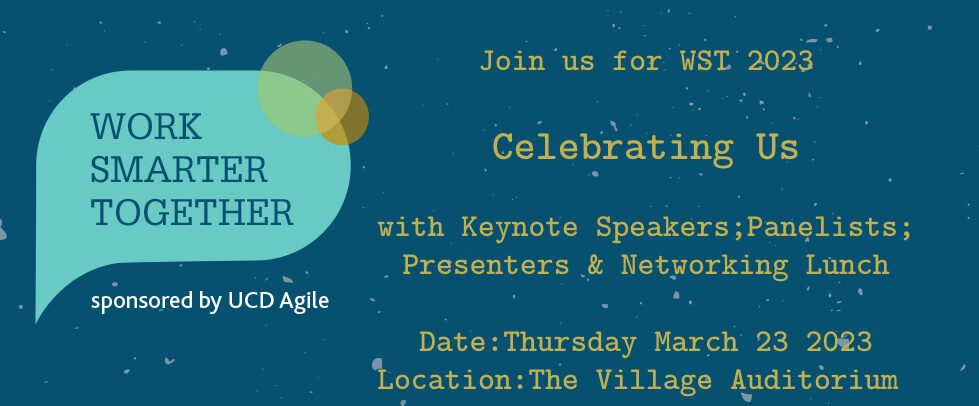 Great news – registration is now open for Work Smarter Together 2023.
The theme of WST 23 is 'Celebrating Us' in recognition that the people of UCD are its vital core, driving our ongoing success as an organisation. Without the initiative, ingenuity and perseverance of individuals
and units to deliver the high-level services we provide, UCD simply wouldn't be the success story it is today. Without people, there is no UCD.
This year we want to take a day to celebrate that success with an exciting line-up of keynote speakers, a panel discussion, colleague presentations in parallel sessions, as well as our networking lunch and a poster exhibition with prizes.
This all day event takes place on March 23 2023 in The Village Auditorium from 10:00 am – 4:30 pm (with lunch and plenty of tea and coffee breaks).
Join us from 10:00 am for a welcome from Agile Director, Olga Murdoch and opening remarks by Acting President and WST Sponsor Prof. Mark Rogers.
From our own Innovation Academy, entrepreneurial specialist and Dublin Story slam champion, Dr. Lollie Mancey takes the stage with her keynote – "Be You – Because everyone else is taken" How to truly connect in a fragmented world to talk about being proactive, the different roles we occupy and what they mean for us.
When you register for the event, you can choose from the parallel sessions for our colleague presentations. During these morning sessions, members of the UCD community bring you their insights, techniques and tools from different perspectives on the event's theme. Follow this link for full session details and session ticket links.
Find our presenters, after the session at the WST Networking Lunch which will be held on the balcony in The Village adjacent to The Auditorium to follow up with any questions or thoughts from the presentations as well as the chance to catch up with colleagues, old and new for a chat. Remember to get in touch if you have any dietary requirements you need us to know about in advance.
Post lunch, the afternoon brings us back together for the 'People First at UCD' panel where we invite Chantelle Guilfoyle, Prof. Colin Scott & Michael Sinnott to join us for a moderated discussion to talk about the successes and challenges of implementing change with a people first approach. This panel will be moderated by Lorna Dodd
We wind down our day with one of Europe's leading experts in Resilience, Leadership, Business Strategy, Justin Caffrey. During Justin's closing keynote "Resilience and Psychological Safety: When vulnerability becomes vital." Justin will share the story of his own personal struggles, including a panic attack in a critical meeting after the death of his son, and discovering the importance of radical acceptance and the realisation that the alpha male persona was just a mask.
Wrapping up the day, we'll be awarding the prize for the judges' choice poster submission and another for the popular vote before parting ways.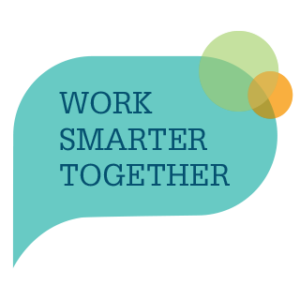 Here's the full breakdown summary:
10:00 Welcome by Agile Director: Dr Olga Murdoch
10:15 Opening Remarks by Acting President and WST Sponsor: Professor Mark Rogers
10:30 Opening Keynote: Dr Lollie Mancey
11:45 Colleague presentations: Parallel Session 1 Village Auditorium
Colleague presentations: Parallel Session 2 Meeting Room 5
14:00 People First at UCD panel: Panellists Chantelle Guilfoyle; Prof. Colin Scott & Michael Sinnott. Moderator TBA
15:20 Closing Keynote: Justin Caffrey
16:20 Poster Prizes & Wrap up
There's no better day to support your colleagues, reconnect with campus and celebrate our achievements than Thursday March 23.