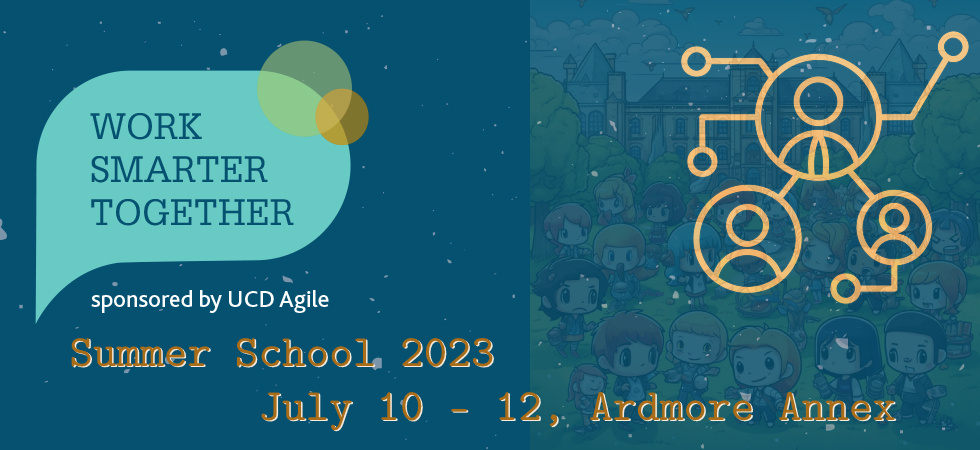 Join us this year for WST Summer School back here in our very own Agile space in the Ardmore Annex.
Based on the feedback from our post event survey in March, you guys love to attend the big events with keynote speakers and presentations by colleagues but you also want some hands on skills workshops. In response to that, this July, we are running a series of short, hands on skills sessions with our colleagues and partners from across the University. These sessions will be for small groups so that the session facilitators can work through the real life projects and examples attendees will bring to the session.
The aim is to encourage active participation from attendees and the facilitation of skills training based on actual current work. Attendees must be prepared to bring examples of an appropriate piece of work that they can use during the session. It is our goal that participants will leave with a completed or progressed piece of work and the ability to complete this work after the session. Please do not book the session if you do not have an appropriate piece of work. The session numbers are small to facilitate one to one attention frm the facilitator/s.
Some sessions can accomodate small teams of 2 or 3 people working on the same piece of work. These groups should be working together on thisv piece of work in their day to day in order to achieve a cohesive result.
All sessions can be booked through Infohub here
Session
Time
Name
Description
No. of Places
Monday July 10
Session 1:
10:00 – 11:30
Facilitated Process Mapping
Develop a shared understanding of exactly what is happening in a process and also identify where to standardise a process.Facilitated Process Mapping can identify where their is not a shared understanding of a process, or where there is condfusion about roles and responsibilites or an inconsistant approach to a process.This session will be of interst to a small team or individuals who have ownership of a process but need a clearer understanding of the process they are mapping.
4 (individuals or small teams of 2 or 3)
Session 2:
14:30 – 15:30
Mastering Google Sheets Timelines
In this hands-on session, you will learn how to create a Google Sheets timeline, which is an interactive visual layer in Sheets.Sheets Timelines can be used to easily and quickly track and visualise tasks such as project tasks, marketing campaigns, schedules, cross-team collaborations, and any future plans.This session is aimed at anyone who needs to organise something over a period of time.
8
Tuesday July 11
Session 3:
10:00 – 11:30
Facilitated Process Mapping
Develop a shared understanding of exactly what is happening in a process and also identify where to standardise a process.Facilitated Process Mapping can identify where their is not a shared understanding of a process, or where there is condfusion about roles and responsibilites or an inconsistant approach to a process.This session will be of interst to a small team or individuals who have ownership of a process but need a clearer understanding of the process they are mapping.
4 (individuals or small teams of 2 or 3)
Session 4:
12:00 – 13:00
Using Spaces on Google Chat for project or team communications
Did you know: you can have a Space with both UCD and non-UCD members? you can share files and assign tasks in a Space?

Learn how to set up and tailor a Space for your team's needs in this hands-on session from the UCD Digital Office. Spaces on Google Chat are more than just group chat: a Space is a central virtual 'room' where groups can stay connected in UCD's hybrid work environment. Google Currents communities have also recently migrated to Spaces.This session could be helpful for anyone who wants to facilitate quick and effective communication within their team or on a project.

10
Session 5:
14:30 – 15:30
Framing the Message
Don't fall at the last hurdle! You've put a lot of effort into planning and delivering your project now it's time to communicate your message effectively. This session will focus on practical steps you can take to help you frame your message and ensure it lands with your audience.This session is aimed at colleagues who have a new project, initiative, event or unit they want to publicize.
6
Wednesday July 12
Session 6:
10:00 – 11:30
Design Thinking
Design Thinking is a human centred problem solving methodology used by changemakers around the world. In this 90 minute workshop, you will try a sample of design thinking tools and techniques that you can apply in your day to day work.
16
Session 7:
12:00 – 13:00
Universal Design & Accessible Communications*

As a global university, UCD places great pride on celebrating diversity within our college community. With over 34% of our undergraduate student cohort from backgrounds under-represented in higher education, 144 nationalities in our student body, and 36% of our staff from international backgrounds, it is important that inclusion is at the heart of everything we do, including how we communicate in the digital space. We are reliant on digital tools in every aspect of our day-to-day work, from recruitment and social media, to registration and internal communications: make sure that your digital communications are reaching your audience in an inclusive, accessible and ultimately more effective way.This workshop will address Universal Design and accessible communications. It will provide you with the dos and don'ts of accessible communication, make you aware of your legal obligations under the EU Web Accessibility Directive (and how to meet them!) and give you the tools to adopt good practices and make your communications more accessible for your audiences.This session will suit those with responsibility for a School, college or Unit website

*This workshop will not cover coding or programming.

6
Session 8:
14:30 – 15:30
Creating Graphics for Social Media using Canva
Join us for a session run by the award winning graphics team in the Library in a session to show you how to plan and create a striking social media campaign for your School, College or Unit.Canva is a simple way to create a house style or look for your social media account or graphic needs and provides a huge variety of templates to use, many of which are free. This session will be of interest to people responsible for social media accounts or technical staff who may want to visually respoensent information in a consistant way
6 – 10 (individuals (10) or small teams of 2(6))