Introducing UCD's Continuous Improvement Leads
A short Agile news item from the support units.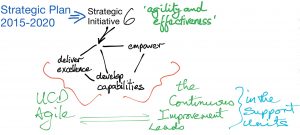 In May 2017 some of the largest support units were asked to nominate what Agile calls 'continuous improvement leads' (CILs).
The role has three main themes, aimed at ensuring:
that support units have mechanisms in place for identifying and choosing improvement projects,
that they have structures for supporting staff who are training or are early day practitioners in new skills, and
that the units use this as a learning opportunity, both for management and for staff across the unit.
The role will help the units create a clearer focus for themselves as they pursue the three elements sought by this part of the strategic plan – delivering excellence in processes and procedures, empowering staff in doing this and developing staff and management capabilities related to this.
This lead role emerged from what we learned during the first year or so of Agile's support for projects, projects mostly taking place through support units.
The CILs are:
UCD Registry – Jill O'Mahony
UCD Library – Marie Burke
Bursar's Office – Donal Doolan
UCD Estates – Ciaran Bennett and Paul Noonan
UCD Research – Dipti Pandya
IT Services – Maria McDonald
UCD HR – Aoife MacGabhann
Each takes the CIL role on behalf of the whole of their unit and not just the particular area for which they are primarily responsible.
The CILs came together for the first time in early June and are currently looking at how they will approach this. Each unit provides quite a different context. Agile will work with the leads in developing our overall thinking in this context, looking to build on successes won and lessons learned. This is the first of this kind of role – bringing local focus to how we respond to the 'agility and effectiveness' agenda.
More news on this area soon… and those of you in the above support units will be seeing more too.