WST October event on Hybrid Working: Recap
We were delighted to welcome over 150 colleagues to our Work Smarter Together event on Hybrid Working on 20th October. Michael Sinnott was our MC and Prof. Mark Rogers (Registrar and Deputy President) opened the event. He spoke about how these WST events remind us that working together as a group makes life better for UCD colleagues and students alike. Prof. Rogers spoke about the relevance of today's theme in view of UCD's Hybrid Working experiment, the learnings from which will help inform the way forward in a way that works both for the university and for those within it.
As this is a new venture for UCD, it was really helpful to have the perspective of the external speakers at the event, who each brought their hybrid working experience to the session.
This point was highlighted in the feedback we received following the event: the relevance of the topic and the real-life experience of the external speakers was appreciated and helped put the current situation into context; more external speakers from different industries in future sessions were requested; and as always, everyone really appreciated the practical tips from Peter and Aidan in the Digital Office Project session.
You can view Michael's opening words along with the Registrar's welcome here:
A recording of the full event is available here:
Event schedule
Ciara Garvan, Founder of WorkJuggle spoke about the importance of creating an inclusive and egalitarian blended hybrid working environment.
Ciara was introduced to us by our colleagues in the
UCD Alumni Relations
office. The Alumni team's most recent event was on the topic of
What it Takes to Excel in the Hybrid Workplace
– synergy in action! Here's a link to that talk:
https://youtu.be/jkqZSifj1ec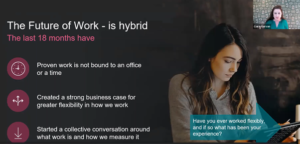 At WST, Ciara spoke engagingly about how hybrid working is a new playing field and a chance to shape our organisation's future – she pointed out that pandemic working was not a true reflection of hybrid working. Ciara spoke about the potential challenges presented by hybrid working around language, visibility and inclusion and asked the question: how does trust happen now? Ciara ended on the note that the connective power of joy is the secret to great teams.
Ciara's presentation is available here.
Ciara's session is available here.
Peter McKiernan and Aidan Curran, UCD IT Services ( EAG) on the Digital Office Project https://www.ucd.ie/digitaloffice/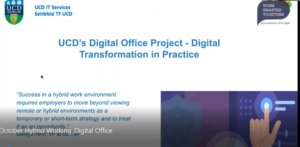 Peter and Aidan gave an overview of the ways we can maximise our shared online tools and applications to support a hybrid workplace that is flexible, resilient and secure. The Digital Office, to quote Google, is "an integrated solution with a singular promise: everything you need to get anything done, now in one place."
Peter spoke about file storage and sharing, collaboration, time management and calendaring. Aidan gave a live demo of how to make the most of using our calendars.
Peter and Aidan's presentation can be viewed here:
Video:
UCD Innovation Academy: Alan Morgan hosted a 'fireside chat' featuring Jessica Hayden, organisational psychologist and Co-Founder of The Brave Lab, who recently conducted a project for SoundCloud on hybrid working. Jessica was joined by Ruth MacMahon, Employee Experience Manager from SoundCloud. It was really interesting to hear from contributors who had worked together in a commercial setting to find ways to manage the hybrid working model.
Video:
UCD Innovation Academy courses