WST Summer School – here's what happened
By Josephine Aylward, UCD Agile
Thanks to everyone who attended this year's remote-working version of our annual Work Smarter Together Summer School on 14th to 16th July. We were delighted with the attendance – 95 people attended overall with 140 individual session registrations – with some even logging in during their holiday! If you missed the event, here's a recap on some of the sessions.
Workshopping Remotely

Almost 40 members of the UCD community attended one of the two 'workshopping remotely' sessions which gave participants hands on experience of what it is like to be part of an online workshop. Using UCD Agile's favourite online collaboration tool, Mural, participants were facilitated through a series of activities that highlighted what a good workshop looks like, the challenges of workshopping in a remote environment, and how we can overcome those challenges. Those who attended the second session were somewhat amused by the irony of the facilitators' dog barking at the doorbell during the 'how might we minimise the impact of distractions on participation' topic.
USM Showcase
We brought some of our colleagues together to tell their stories about what being involved in developing and operating the Unified Support Model has meant for their teams and their students, and what they have found valuable during this time.
You can find more on this session and the videos from the Showcase session here.
ReEvaluating Remit in the 'New Normal'
In this session we brought colleagues from across the University together to take a step back, look at what people were working on, the new ways they were working, and pull together some of the strands to make the "new normal" feel a little less "new" and a little more "normal".
You can read about the session and the outputs in a bit more detail here.
The Value Proposition Canvas and Jobs to be Done
The 'Value Proposition Canvas and Jobs to be Done' session was about making sure you do the right thing when creating solutions or processes – more gain for your effort, happier 'customers'. 'Jobs to be done' asks the question 'What is the person really trying to achieve?' rather than 'What task are they carrying out?' when looking at what is needed from a process or solution or tool. (Check this video and Google, for more on 'Jobs to be done'). If you get this right you are more likely to come up with a good solution for them. The 'Value Proposition Canvas' is a systematic way of asking, and capturing, 'What do they really want, what am I offering, and how do they match?' (Check on https://www.strategyzer.com/ for more) If you get these questions right you end up with happier customers and more successful processes. The PowerPoint used to run the session is here.
Mural and the Lightning Decision Jam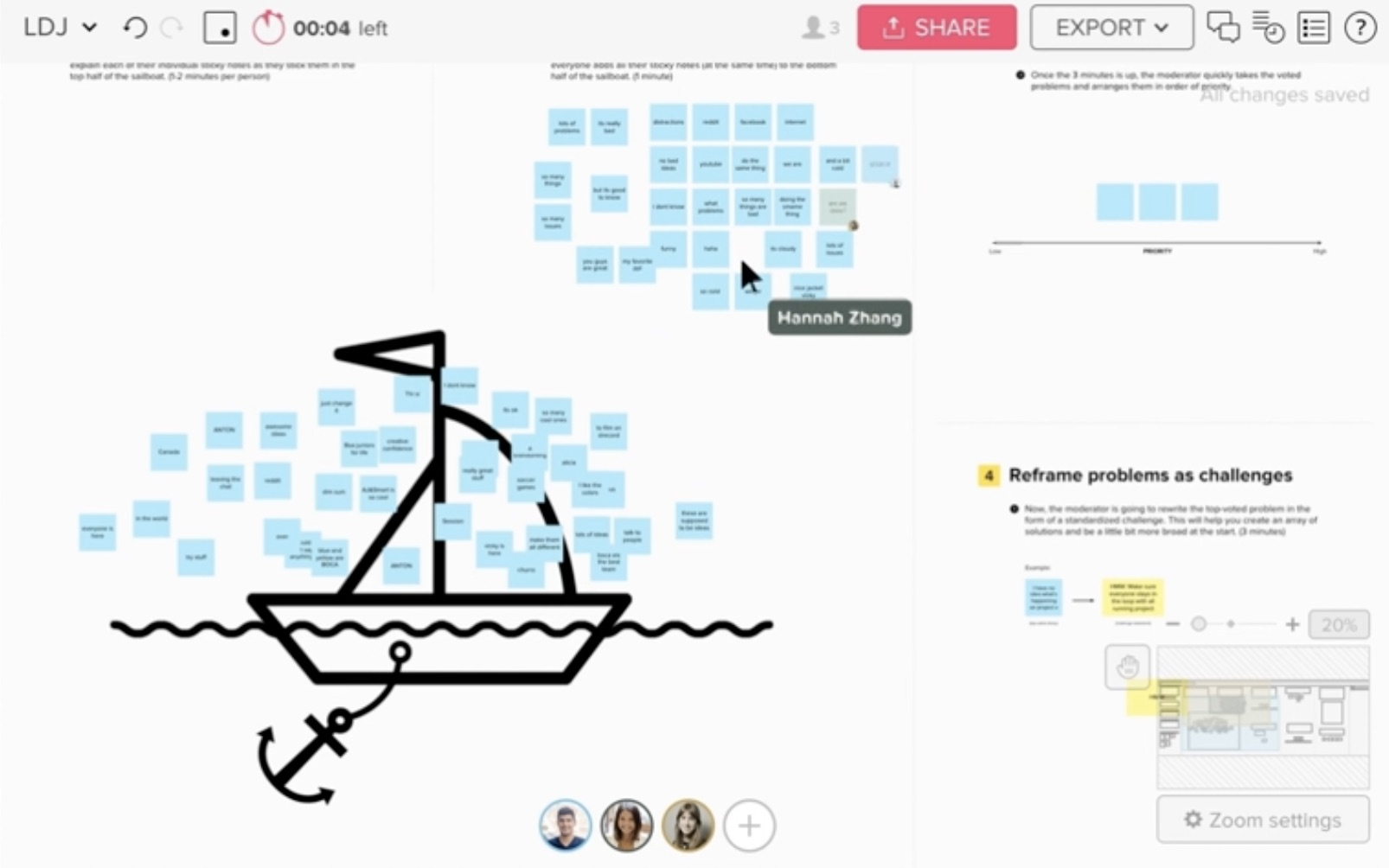 The 'Mural and the Lightning Decision Jam' session was not about making art by throwing jam at walls but about using the Mural online collaboration tool (https://www.mural.co/) and about using the Lightning Decision Jam as a way of bring a group together (you and colleagues, your team, a work group, a project group) to address and idea and generate concrete actions. (Check https://ajsmart.com/ldj, and Google for more, on the LDJ). There was a big focus on helping groups work in their 'distributed offices' – Mural the means, LDJ for a certain kind of work The PowerPoint used to run the session is here.
Prosci Fundamentals of Change Management Training
The 'Prosci Fundamentals of Change Management' session delivered just what the title implies – an introduction to the fundamentals of change management as structured by Prosci. See more on this at https://www.prosci.com/adkar/adkar-model.
At the heart of this is the ADKAR model for the change journey – from awareness to desire to knowledge to ability to reinforcement. In essence, this is about recognising that all change for the individual is a journey of this kind and that Prosci's concepts and approaches can help you to help colleagues on this journey. Change management and project management go hand in hand, though change is not just about projects: any time you make a change you create a change journey and change management helps folks on their way. Talk to UCD Agile if you want to hear more about this.
Yellow Belt Training
UCD Agile's training partners, SQT, delivered Yellow Belt training. The training, delivered over two half days, provided participants with hands on experience of the Lean approach to process improvement.
Bring your own Biscuits (BYOB)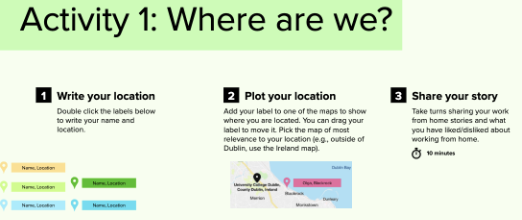 BYOB was created as an alternative to the networking side of Work Smarter Together events that many of us look forward to. A small group of UCD staff came together using Zoom and Mural to complete an informal icebreaker activity designed to help us get to know each other, as individuals rather than employees.
As Agile's first attempt at running a remote networking event this really was an experiment. It turned out even better than we expected. Each participant shared funny stories about what their children, cats and dogs have been up to in the background of important zoom meetings; the joy of being able to pop out to the garden during breaks; and how they have saved time without having to commute to campus. We even discovered some of us are neighbours both on campus and off!