It is March 3 – only 11 days to go…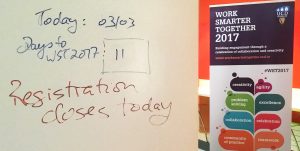 11 days to go.  Registration closes today.
So far, over 330 people registered for the day itself, with over 100 to the pre-event workshops on the 14th, so we are nearing capacity and time is running out.  Sign up today, sign up soon, if you are planning to come.
Preparations are at a peak.  The posters for the exhibition have been printed, the presentations are being fine-tuned by their 55 (!) contributors, signage and navigational aids for the day are in final edits, the catering has been ordered, badges are being printed, coffee being ground, the choir is entwining their harmonies, the planning group, logistics group, content buddies, session chairs, room buddies, camera men, graphic harvesters and more are all converging their efforts on the 15th.
Well done to all those whose hard work is making this day happen.
Be sure to join us… and don't forget tomorrow's Strictly UCD – the best of luck to all involved.

| | | |
| --- | --- | --- |
| Pre-event workshops | The main event | Event countdown and registration  |