Support your colleagues & pick up some insights during WST23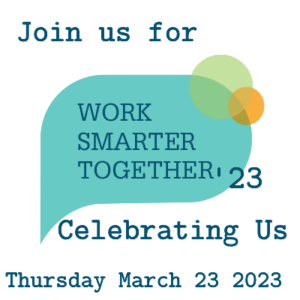 A core part of WST events are the contributions from our colleagues and WST March 23 is no different. As part of 'Celebrating Us', we held an open submission for presentations from across the University. In our efforts to bring you as many perspectives as possible, we are offering two sets of parallel sessions to choose from when you reserve your ticket. When you register for the event, you can choose from the parallel sessions in either The Auditorium or Meeting Room 5 for our colleague presentations.
During these morning sessions, colleagues from across the campus bring you their insights, techniques and tools from different perspectives on the event's theme. These sessions are loosely grouped together under themes of Equality and Inclusion and shared resources in The Auditorium and Lessons from academic success stories and student focused developments in Meeting Room 5.
Follow this link for a more detailed breakdown of each session.
Tickets and the full breakdown of the day are available here
Here's the schedule for both sessions:
Time
Presentation
Presenter
Time
Presentation
Presenter
Auditorium
Meeting Room 5
11:45
Implementing the Dignity & Respect Review Report
Marcellina Fogarty & Rory Carey
11:45
COMPHACRISIS: The Story of a Grant
Mina Hosseini
12:00
Celebrating Pride in Vet Sciences: A how-to in 10 easy steps!
Niamh Nestor & Eimear Burkley
12:00
Developing international collaborations for an environmental humanities project: The Humanities Institute's GHI grant
Megan Kuster
12:15
End Period Poverty Initiative at UCD Library
Catherine Bodey and Vanessa Buckley
12:15
Building Global Partnerships
Caitríona Osborne
12:30
Hybrid Working in Google Spaces
Anna John & Hannah Lamont
12:30
Creating the Academic Integrity course for UCD Students
Peter Hickey
12:45
To zoom or not to zoom? The pros and cons of running zoom clinics.
Johanna Kennedy & Kevin Lohan
12:45
Refurbishment to reimagining: The transformative impact of the Level 3 James Joyce Library Project
Ursula Byrne