#UCDEarth virtual Walks and Talks
By Caitriona Devery, UCD Earth Institute
The Earth Institute have regular events that are very popular with researchers across UCD.
Our main event is a weekly coffee morning which features a short research presentation from a UCD academic.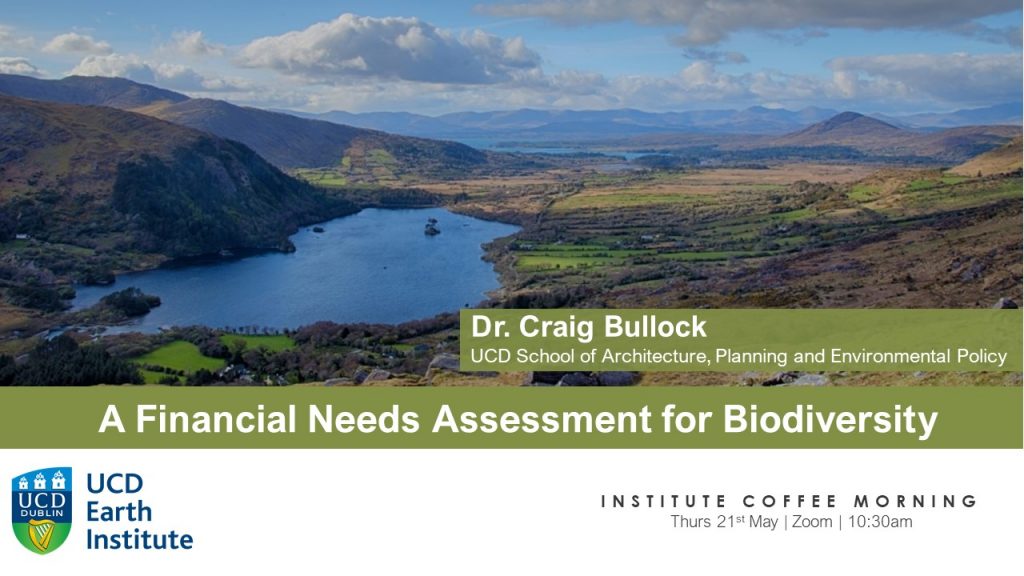 Every year we also run events around Earth Day in April. This usually involve campus walks where we ask UCD experts to share their knowledge of the natural and built environment. The COVID-19 situation forced us to rethink how we could do these events online, with the aim of bringing UCD researchers together and raising awareness of environmental matters.
We now host the coffee mornings online every Thursday, using Zoom. Attendance has been great; the only downside is that we can't provide cake like we normally do.
For Earth Week, we moved our Earth Walks online and set up a new series called Earth Talks. Earth Walks were presented on Twitter @UCDEarth as a thread around a specific theme or group in UCD. We had Walks from the Professor Aidan O'Sullivan from the Centre for Experimental Archaeology & Material Culture about their work, a virtual tour of Rosemount Environmental Research Station by Bredagh Moran, Dr Ellen Rowley on The Buildings of Belfield: 1962-1982, and a virtual tour of the Trees of Belfield with contributions by Brian Tobin, Julie Ballweg, Finbarr Brereton, David Brogan, Karen Foley, Mary Forrest, Gerald Mills, Tobi Morakinyo, Tine Ningal, Rob Sands and Dara Stanley.
We have also been interviewing academics from across the university and beyond about their research on all kinds of topics from smart cities to sustainable agriculture and food archaeology.
Both walks and talks are available on the Earth Institute website under News and Events. Although the online experience cannot replace the real-life interaction with others and the UCD campus, we have had positive feedback and we hope that these activities have helped people to stay connected to each other and UCD.