UniShare User's Coffee Morning
By Amy McDonald and Jeremy Britton, UCD Agile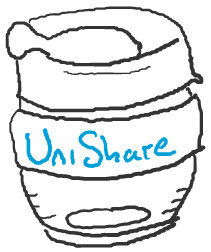 The UniShare User's Coffee Morning was hosted on 17th July in E2.16 O'Brien Centre for Science (East) . The USM Rollout Team had this idea for a while as more offices began using UniShare as part of the USM. As part of the WST Summer School we brought both new and long-standing users of UniShare together to discuss the system and its uses, the opportunities it provides, to ask questions and generate ideas over a cup of tea or coffee.
Our three main objectives for the morning were to 1) establish and develop the UniShare community, 2) capture insights, experiences and feedback from a diverse group of users, and 3) provide a platform for skill sharing.
Almost 40 of our colleagues from across the campus joined us; 10 of the 14 USM offices were represented at the session, as well as the Student Advisers, schools and IT Services. We really appreciated how enthusiastic and engaged everyone was in sharing their experiences and ideas on UniShare. We used Mentimeter to capture thoughts, insights, feedback and ideas arising from the session.
We have received some great feedback from those who attended the Coffee Morning, and we look forward to running similar events with the USM and UniShare communities in future.
Our thanks to all who attended the morning session, as well as the Agile Team for their help in organising the morning, and the USM Learning Team for the support at and in advance of the session.
Contact:
Amy McDonald (amy.mcdonald@ucd.ie), UCD Agile
Jeremy Britton (jeremy.britton@ucd.ie), UCD Agile