A Day in the Life – Tadhg O' Leary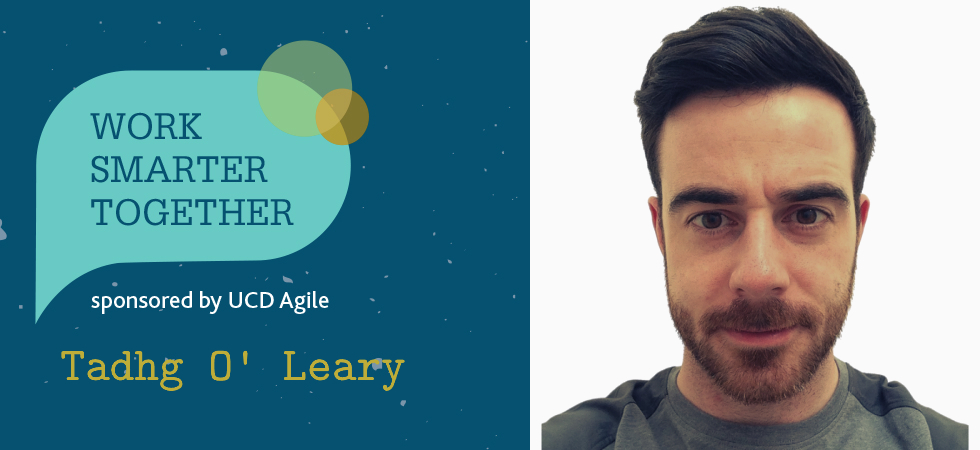 Who are you?
Tadhg O'Leary, Programmes and Communications Assistant at UCD Sport.
How did you
get here? What was the journey to UCD?
I studied the BSc Sport and Exercise Management degree from 2015 to 2018, and during my studies I volunteered with the UCD Rugby Club managing the student tag rugby section. I have continued to help the Rugby Club to this day which has involved organising their Annual Dinner, Daffodil Day fundraiser, and many more day to day aspects. This allowed me to get to know the staff within UCD Sport and build up positive relationships while studying. When I graduated from UCD I was lucky enough to work with Irish Rugby and their Sevens programme, which included some great experiences in Paris and San Francisco.
My first employment experience in UCD was a maternity leave EA contract with UCD Sport in January 2019. From April 2020 until March 2021 I worked fully remotely with Sport Ireland before finding myself back in UCD, this time in Registry in a SEA position. I had a fantastic near two years in Registry before an opportunity to return to UCD Sport came up and I have been here since February of this year.
What is your role within UCD, and what are your main responsibilities?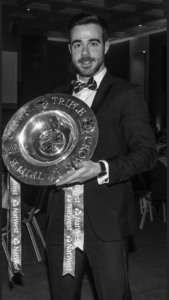 The role of Programmes and Communications Assistant at UCD Sport is varied. The aim is to achieve an integrated approach to club sport in terms of participation/recreational sport and performance sport. A key responsibility is to develop, implement and promote initiatives to raise the profile of, access to and participation in club sport for all students and support the development of the clubs.
You then have the communication side of the job. I manage all the Sport social channels including the website, I work with clubs and develop campaigns they can use to promote themselves, and I try to create a strong consistent brand image for the unit.
Could you briefly describe what a typical day looks like for you?
It depends on the time of the year! During April and May the focus was delivering on the Athletic Union Council Sports Awards, an end of year event honouring our student athletes in the Astra Hall.
The days from now on are looking towards September and all the preparations for the following: Sports Expo / orientation, migration of our website to the new design library, Sport Scholarship reviews, update the Operations Manual and Sports Guide, and many more!
September onwards we are working closely with the clubs and their new committees to ensure they are supported.
What are some of the most interesting or challenging tasks you encounter on a regular basis? Why are they unavoidable?
It's very refreshing to interact with so many enthusiastic students and see how well they are able to manage their club. It's not easy and the work they put into it over the course of a year is commendable. This year the total number of members for 22/23 in our clubs was over 10,000 [7,400 distinct members], this is the largest ever, and this is down to the sports clubs themselves and how well they operate.
It can also provide challenges because the students may be inexperienced dealing with certain aspects of running a club. But it's unavoidable because these young individuals have to start somewhere. It's our job to provide Club Officer Training and support, that will help develop the necessary skills that will also benefit them when they graduate.
Are there any specific projects or initiatives you or your unit are currently working on that you would like to share?
We are currently in the process of completing migrating our current website to the new design library. Unfortunately because the current site was built as a stand alone it has to be manually migrated. This is something I will be working on the next few months, and I'm looking forward to being able to show it off ahead of the new academic year.
Is there a process or element of your work that you would improve or change?
I am one who is always looking at improving / changing how we work. I will always try to make a task easier and more efficient, but without affecting the result / end product. Since February I have made some changes to certain items like how the sports clubs could nominate for the Sports Awards. These were previously completed via a document form [11 single forms for the 11 awards] and emailed to us. But I created a SurveyMonkey which allowed for one form and individuals could use this form to select which award they would like to make a nomination. This was a small change but one that made everyone's life easier.I have a lot of other items I plan to improve going forward such as the Scholarship InfoHub report system, our club grant form, how we communicate with sports clubs and more.
Could you share a memorable experience you've had while working in your role?
Since being back in Sport in February and being on leave for 3 of those weeks[!] I haven't had time for a big memorable moment yet. But one that is linked to Sport was the annual UCD Rugby Daffodil Day in March which we supported. The Club raised over €18,000 for the Irish Cancer Society and I think it's wonderful to see the Club and University community come together to support such a cause
Is there a particular skill or expertise that helps you in your role and what advice would you give to someone joining your unit?
You have to be adaptable. Every day is different, especially during term time. Things can crop up at any moment, so preparation is key and utilising your time as best you can is required.
How do you collaborate with other teams or colleagues in your day-to-day work?
We can work closely with many other units. The Sport Facilities unit and staff of the Sport Centre, the Student Advisors unit and Estate Services are the main ones. We usually communicate via quick phone calls, emails, or just pop down stairs.
Are there any common misconceptions about your role?
Some of my friends think I'm a physio but I think that's an issue with them! Within UCD it can occur that people think UCD Sport and UCD Sport & Fitness are one and the same. It can be confusing for sure and I experienced that when I first came to UCD in 2015.
How do you see your job changing over the next ten or twenty years?
I think the Sport in UCD as a whole will be completely changed even in 10 years. With the new expansion of the sports facilities starting to begin, the opportunities to get involved in sport will be even greater. We are already seeing the impact of the new athletics track in terms of students wanting to come to UCD because of this wonderful facility. I think this unit will expand and have more in house sport development officers.
What is an achievement big or small you've had while in this role?
Since I've been back here it's definitely been the return of the Sports Awards. It was the first in person awards event since 2019 and it was wonderful to have over 240 students honoured for their achievements over the year.
If your job had a theme song or soundtrack, what would it be [and why]?
Kasabian – Club Foot. Chaotic but fantastic.