Work Smarter Together 2023 –
Main Programme Announced
This year we want to take a day to celebrate that success with an exciting line-up of opening and closing keynote speakers; a panel discussion, colleague presentations in parallel sessions, as well as our networking lunch and a poster exhibition with prizes. We're delighted to have a great line up of speakers; panellists and thought-provoking submissions for this year's WST March 23 – Celebrating Us, on Thursday March 23 2023
Follow this link to the full schedule of events taking place each day.
WST People First at UCD panel & moderator Announced
As part of 'Celebrating Us' Work Smarter Together March 2023, we invite you to join us for our panel discussion with members of the UCD community who have taken a People First approach to enhance the value of their way of working to both the people and the organisation. This approach has been manifested through different programmes, projects and approaches across UCD.
Follow this link for full information
Panel:
Chantelle Guilfoyle – Director – HR Partners
Professor Colin Scott – College Principal, College of Social Sciences and Law, Vice-President for Equality, Diversity and Inclusion
Michael Sinnott – Programme Director – POST
Moderator:
TBA
WST March Poster Exhibition – deadline extended
Submit a poster and be in with a chance to win a prize!
We are thrilled to be holding our poster exhibition in person again during WST 'Celebrating Us' on March 23. Aside from coming along on the day and hearing our fantastic keynote speakers, supporting your colleagues at their presentations and attending the People First panel, you can also get involved by submitting a poster for the exhibition and maybe even win a prize.
Keynote Speakers Announced
Work Smarter Together is delighted to announce our keynote speakers for March 2023
This March 23, the theme of WST 23 is 'Celebrating Us'. The people of UCD are the vital core of UCD, driving our ongoing success as an organisation. Without the initiative, ingenuity and perseverance of individuals and units to deliver the high level services we offer to students, colleagues and globally, UCD simply wouldn't be the success story it is today. Without people, there is no UCD. This year we want to celebrate that success by providing a day of speakers, panels & presentations that celebrate that success.
We are thrilled to have found keynote speakers who reflect this innovation and ingenuity and the theme of celebration of pursuing and reflecting on success in its many forms.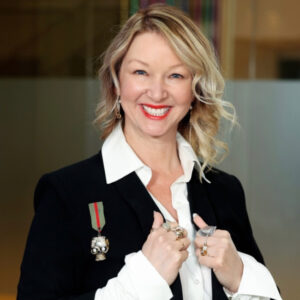 Dr Lollie Mancey – opening speaker
Dr Lollie Mancey is Course Director and entrepreneurial specialist in UCD's Innovation Academy. She is also Director of three businesses making her a serial entrepreneur.
With a PhD in Organisational Learning and an academic background in Anthropology she brings a unique perspective to innovation and entrepreneurship.
She is the winner of the UCD 2022 Excellence in Teaching Awards as well as the inaugural Trinity University Dermot McAleese Teaching Award.
Click the link to find out more about her here
Justin Caffrey – closing speaker
Justin is a skilled storyteller narrating his professional and personal journey in a way that everyone from boardroom tables to kitchen tables can relate toHe is one of Europe's leading minds in resilience, leadership, business strategy, psychological safety and practical neuroscience. He has taught and coached global talent for over twenty-five years, building and selling million-dollar businesses. Justin's techniques have been viewed over 1 million times on YouTube
Click the link to find out more about him here
WST March 23 Activity
People First at UCD panel Announced
Colleague Presentations Announced
Keynote Speakers Announced for March 2023
Tickets available Monday February 27 2023
Poster deadline extended until March 10 2023
Save the date & theme announcement for March 2023
Call for Participation for Celebrating Us – March 2023
The WST tradition
Work Smarter Together, as an expression of the great things which go on within the UCD community, is all about celebrating and supporting the collaboration and creativity that help make UCD a great place to work, to teach, to research, to study. We offer our colleagues the opportunity to share their discoveries and experiences through a series of events and newsletters. If there's something you'd like to tell us about or a topic you're interested in get in touch. We'd love to hear your thoughts.
In 2022, we are looking at the way we work now we are returning to some sembelance of normal. Colleagues are working remote, on campus and hybrid. There's a lot going on. We have been collecting stories about software, systems, collaboration, online communities and the stories from coming back to campus.